A new Evie App was launched in July 2023. You can find support materials for the old app in Legacy App Resources
Charging prices differ depending on the location and/or plug type you are using. Specific pricing can be viewed via the Evie App after you select a station and tap the connector you wish to use.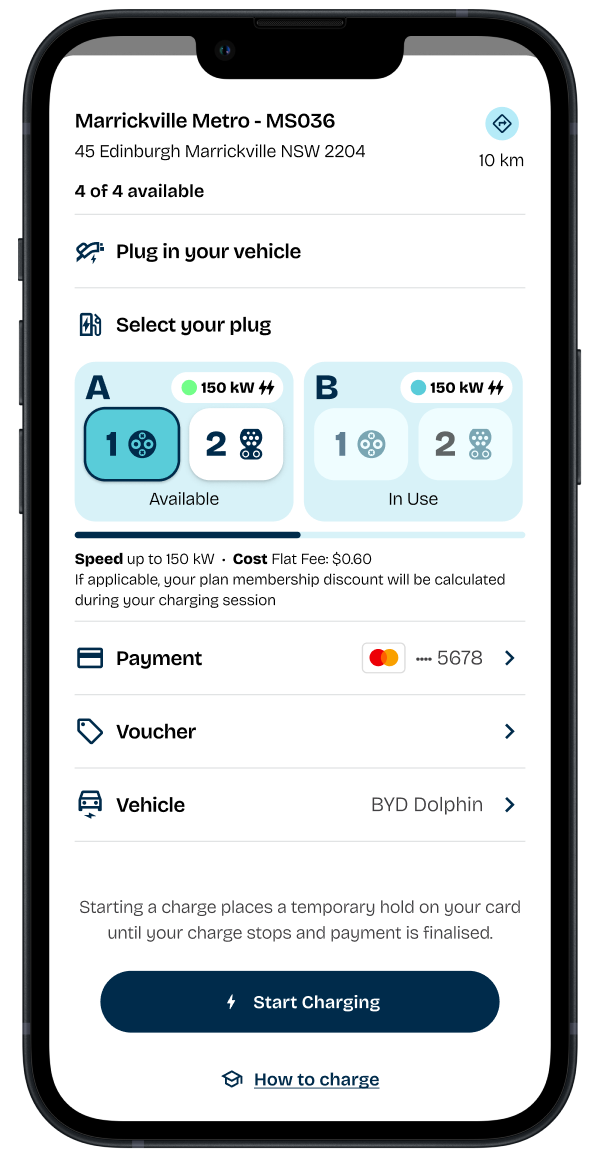 The Evie Network currently feature 3 types of charging stations across Australia, each with pricing based on power and speed:
Ultra-Fast Charging (up to 350kW) pricing is 65c per kWh + 0c per minute while charging.

Super-Fast Charging (up to 150kW) pricing is 60c per kWh + 0c per minute while charging.

Fast Charging (up to 50kW) pricing is 50c per kWh + 0c per minute while charging.
For more details on Tap & Go, click here.
Pricing can differ from station to station due to differences in charging capability and energy prices in the respective jurisdiction, so always check the Evie app for up to date pricing.
Read more about charging speed

As an indicative guide, it should cost around $12 - $25 to charge a smaller vehicle or $25 - $45 to charge a long-distance vehicle. For example, charging a Polestar 2 from 20%-80% at a Fast Charging Evie station would currently cost $20.70. To charge a Nissan Leaf at the same location would cost $12.00.
These amounts would of course be dependent on the type of vehicle you are charging and the location of the Evie charger.
In the Evie App, you can filter for your maximum power, so you only see stations relevant to your charging needs.